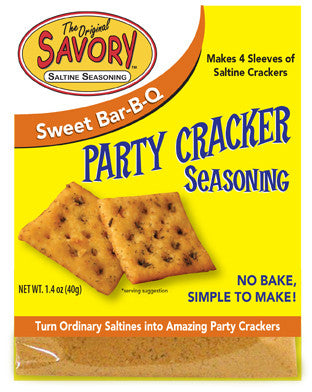 Sweet Bar-B-Q Savory Saltine Seasoning
Turn an ordinary cracker into an Amazing Party Cracker!
No Prep…No Baking…No Mess!
Perfect for Quick and Easy Entertaining
Snacks
Parties
Cookouts
Travel
It's a Great Seasoning
Dips
Spreads
Casseroles
Grill Seasoning
It's hard to describe the taste of a Savory Party Cracker – but we often hear the word "AMAZING"!

Our great combination of Savory seasonings create a bold, unique  flavor – without being too hot or spicy.  Our newest Sweet Bar-B-Q has some sweet and sass rolled into one.
  
The seasoning packet includes 1.4 oz. of the flavored seasoning. Mix with 1 2/3 cup of Canola Oil and 4 sleeves of Saltine Crackers.
Company: Savory Crackers