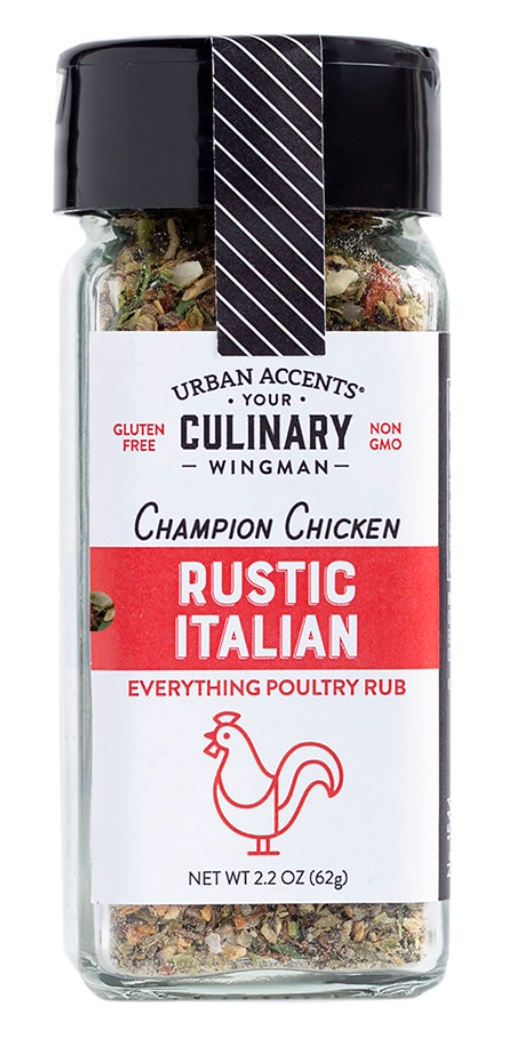 Rustic Italian Everything Poultry Rub
Rustic Italian Everything Poultry Rub
This beautiful, colorful, zesty and herbaceous blend is delicious mixed with butter for a classic roast chicken.
NON-GMO | GLUTEN-FREE
HOW TO USE…
Use 2 Tbsp per pound of poultry + 2 Tbsp olive oil for grilling and roasting.
Ingredients: Spices(Black Pepper, Oregano, Basil, Rosemary, Marjoram, Red Pepper), Salt, Garlic, Onion, Orange Peel, Tomato, Chili Pepper, Yeast Extract, Parsley, And Less Than 2% Soybean Oil Added As Processing Aid.
Nutritional Info: Serving size: 1/4 tsp (0.7g), Servings: About 89, Amount per serving: Calories 0, Total Fat 0g (0%dv), Sodium 95mg (4%dv), Total Carbohydrates 0g (0%dv), Protein 0g. Not a significant source of Fat Calories, Saturated Fat, Trans Fat, Cholesterol, Fiber, Sugar, Vitamin A, Vitamin C, Iron and Calcium. Percent Daily Values (dv) are based on a 2,000 calorie diet.
Net Weight: 2.2oz (62g)