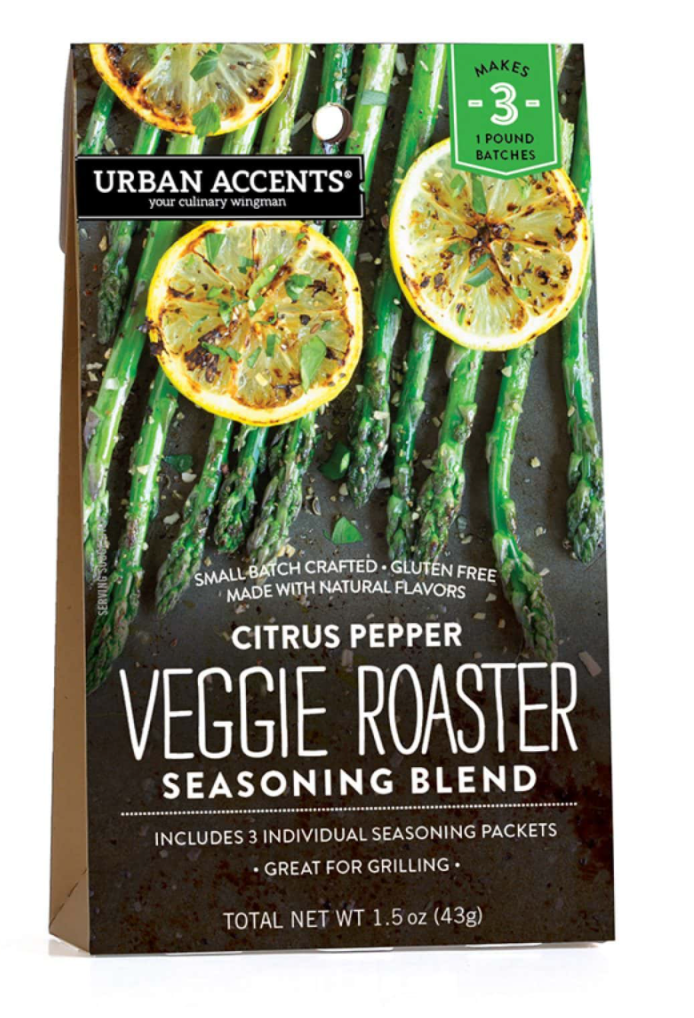 Citrus Pepper Veggie Roaster
Citrus Pepper Veggie Roaster Rub
Warm, coarse black pepper gets a zesty boost from lemon peel and a savory base from onion and garlic. This seasoning is ideal for asparagus and absolutely delicious on other vegetables.
Each package makes three batches of roasted veggies.
For Single Batch of Citrus Pepper Asparagus:
1 lb asparagus
3 Tbsp olive oil
1 Tbsp melted butter
1 Tbsp Citrus Pepper seasoning
Preheat oven to 375°. Combine butter, oil, and seasoning. Toss with asparagus and lemon slices to evenly coat. Roast on a baking sheet 15 min or until tender. Squeeze any remaining juices from lemon slices onto cooked asparagus. Try this seasoning blend & recipe with potatoes and other root veggies… delicious!
Each package makes three batches of roasted veggies
Ingredients: Salt, Spices, Garlic*, Onion*, Lemon Peel*, Orange Peel*, Red & Green Bell Peppers*, Citric Acid, & Lemon Oil. *Dried.
Nutritional Info: Serving size: 1/4 tsp (0.8g), Servings: About 54, Amount per serving: Calories 0, Total Fat 0g (0%dv), Sodium 85mg (4%dv), Total Carbohydrates 0g (0%dv), Protein 0g. Not a significant source of Fat Calories, Saturated Fat, Trans Fat, Cholesterol, Fiber, Sugar, Vitamin C, Vitamin A, Iron and Calcium. Percent Daily Values (dv) are based on a 2,000 calorie diet.
Net Weight: 1.5oz (43g)