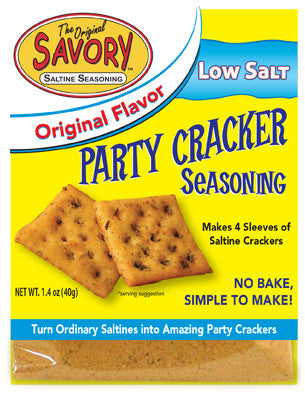 Low Salt Savory Saltine Seasoning
Turn an ordinary cracker into an Amazing Party Cracker!
No Prep…No Baking…No Mess!
Perfect for Quick and Easy Entertaining
Snacks
Parties
Cookouts
Travel
It's a Great Seasoning
Dips
Spreads
Casseroles
Grill Seasoning
Original flavor is our most popular.  It has a bold, unique taste – without being too hot or spicy.  Most often described as "AMAZING!".
It's hard to describe the taste of the Original flavor – but we often hear the words "AMAZING" and "SAVORY". 
The same great Original taste is now available with less sodium.
Our great combination of Savory seasonings create a bold, unique flavor – without being too hot or spicy.

Once you try it, we think you will agree.

Original is our most popular seasoning flavor and it tastes great with most anything.  The seasoning packet includes 1.4 oz. of the Original flavored seasoning. Mix with 1 2/3 cup of Canola Oil and 4 sleeves of Saltine Crackers. 
Company: Savory Crackers