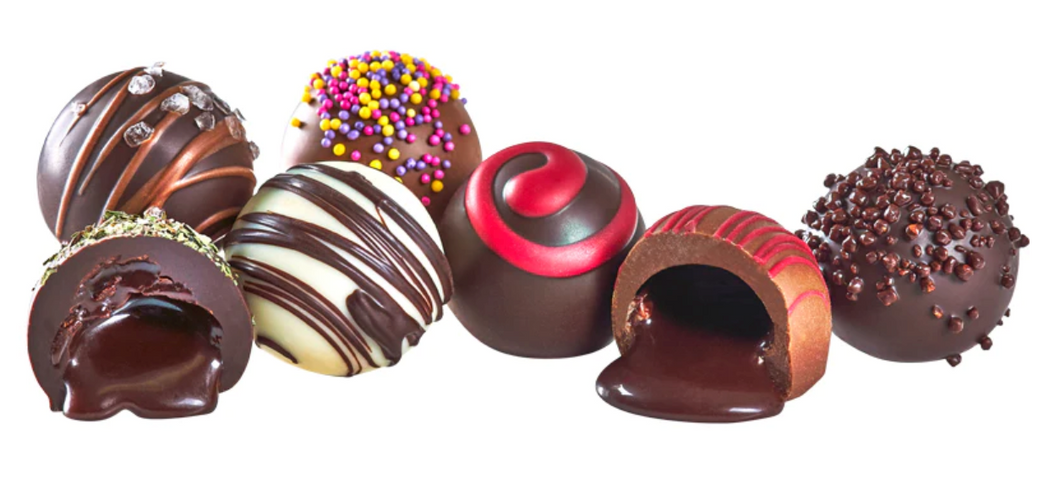 Box of 16 Gourmet Chocolate Truffles
Regular price $13.60 Sale
So many delicious flavors in just one box! 
Chocolate Chocolate Chocolate Company is an award-winning 2nd generation chocolate company. At the heart of the company is a family of candy makers who work alongside a talented staff of artisan chocolatiers with over 100 years of combined confectionery experience. Original recipes from the turn of the century are slowly cooked into copper kettles and stirred by hand.
Chocolates are hand decorated or 'striped' and polished before packaged into boxes. Premium ingredients are used in all of our chocolates including fresh whole milk, fresh whipping cream, pure cane sugar, grade AA butter, pure Madagascar Vanilla, fresh fruit and all natural milk and dark chocolate made with Fair Trade Certified™ ingredients.
So many different delicious flavors so we recommend getting an assorted box hand picked by us! Delicious flavors include: Milk Chocolate German Chocolate Cake, Milk Chocolate Caramel Fudge Brownie, Dark Chocolate Sea Salt Caramel Truffle, Milk Chocolate Birthday Cake, Dark Chocolate Fresh Mint, Dark Chocolate Fresh Raspberry, Dark Chocolate Italian Espresso, White Chocolate Euro Dark, Dark Chocolate Swiss Chocolate, Milk Chocolate Caramel Cheesecake, Milk Chocolate Peanut Butter Smoothie, Dark Chocolate Caramel Macchiato, White Chocolate White Russian, Milk Chocolate Crème Brûlée, White Chocolate Wedding Cake, Milk Chocolate Irish Cream, Milk Chocolate Tiramisu, Dark Chocolate Vanilla Butter Caramel, Milk Chocolate Sea Salt Caramel and Dark Chocolate Sea Salt Caramel