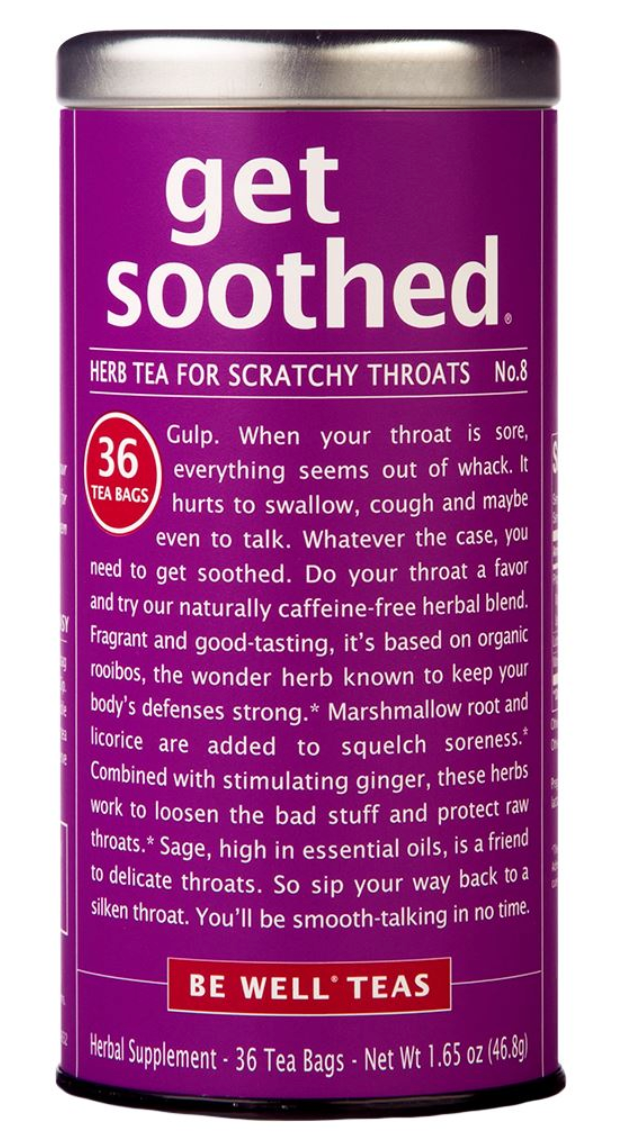 Get Soothed® - Herb Tea for Scratchy Throats
Regular price $13.75 Sale
As Featured in Society19's "Best Teas to Drink When Sick"

Herbal Tea for Scratchy Throats - Do your throat a favor and try our naturally caffeine-free herbal blend. Fragrant and good-tasting, it's based on organic rooibos, the wonder herb known to help keep your body's defenses strong*. Marshmallow root and licorice are added to squelch soreness*. Combined with stimulating ginger, these herbs work to loosen bad stuff and help soothe raw throats*. So sip your way back to a silken throat with this throat-soothing tea. You'll be smooth-talking in no time.
Rooibos (Red Tea) is naturally caffeine-free. 
Steeping red tea is easy. Simply heat fresh, filtered water to a rolling boil. Then pour 6 oz of water over tea and steep for 5-7 minutes if using a tea bag or full-leaf.
Organic Rooibos (Leaf), Ginger (root), Lemon Myrtle (leaf), Sage (leaf), Licorice (root), Marshmallow (root). Other Ingredients: Natural Lemon Flavor, Other Natural Flavors
0
Worldwide